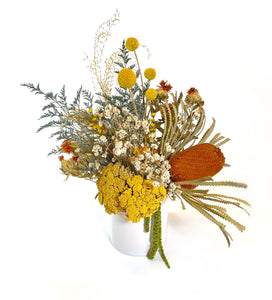 Baton Rouge Succulent Co
Boho Dry Floral Arrangement
Regular price
$40.00
$0.00
Unit price
per
The eclectic bohemian aesthetic is captured in this dry floral arrangement. With colors ranging from warm earthy tones including fiery oranges, burnt yellows, and natural shades of green and cream to jewel tones including deep purple and brilliant blues. The blending of colors and textures are what gives this arrangement a relaxed, carefree, and unique vibe.  
Each arrangement is filled with a variety of dried and preserved flowers, leaves, seeds, and pods. No light or water required! Colors and floral selection may vary slightly from the pictured arrangements due to availability. All arrangements are one of a kind.
*Arrangements not available for shipping, but bouquets are!
---